Inspiring cancer survivor leads in poverty fight
Share - WeChat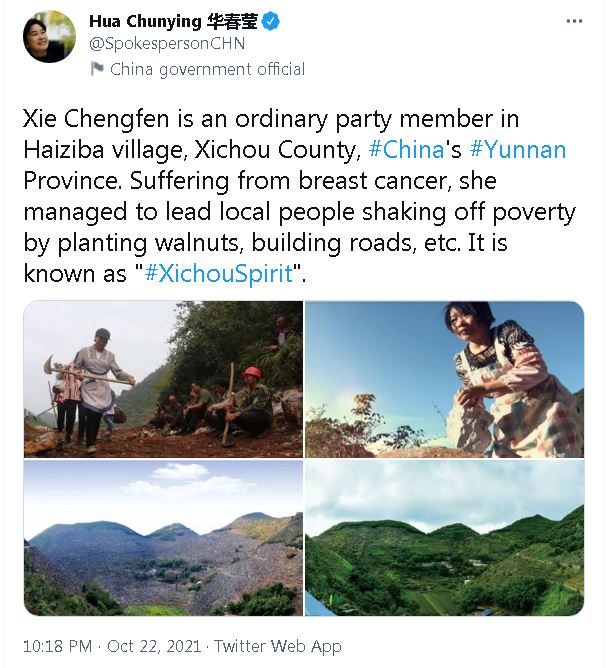 Around a year ago, Assistant Foreign Minister and Foreign Ministry spokeswoman Hua Chunying published a tweet, introducing to followers worldwide a Chinese woman and breast cancer survivor who had led her fellow villagers in the fight against poverty.
Xie Chengfen, 51, is a member of the Communist Party of China and lives in the village of Haiziba in Xichou county, Yunnan province.
"Suffering from breast cancer, she managed to lead local people shaking off poverty by planting walnuts, building roads, etc. It is known as '#XichouSpirit'," Hua wrote in a tweet on Oct 22 last year.
Born in 1971, Xie got married at the age of 18 and moved to Haiziba. She soon gave birth to a son and daughter.
She worked as the village chief from 1996 to 2016. During this time, she led locals in building the village's first 8-kilometer stretch of concrete road to the outside world along which economic opportunity would arrive.
"I have a great bond with the road and I feel pain in my heart when I see an overloaded truck on it or if someone causes the road damage," she said.
Behind her commitment to the road is the fact that the remote village's nearest towns are far away, and that the local terrain is rocky and hilly and not fit for growing plants or even building roads for vehicles. As a result, it had been difficult for the local economy to develop.
Before the road, and to address the local economic situation, Xie learned how to cultivate walnuts, a crop suitable for the area, and led the village in the planting of 8,300 walnut trees.
Haiziba's walnut harvests, however, had trouble reaching the market due to the absence of decent concrete roads, prompting Xie to decide to build a new one.
In October 2008, she led 17 local households to start work on the road.
To deal with a lack of funding, she visited households one by one in the evenings after the long days' work to ask for donations.
However, at the height of the project, she was diagnosed with breast cancer.
"I will never forget the day my breast cancer was first diagnosed on March 8, 2009 — it was International Women's Day."
The treatment was a bumpy road. Xie went for consultations at eight hospitals for various diagnoses.
"When one doctor told me that I only had three months to live, I was put in a very low mood for quite a period of time. I was so afraid of failing in the road building ... My grandpa was then already 96 and my two kids were still at school."
She said she was very grateful for her husband's full support at the time in taking care of their elderly relatives and children.
While advancing road construction, she was taking four kinds of medicine, including Western medicine and traditional Chinese medicine.
"Of course, I did experience despair ... but I was very strong in mind at that time. I smiled in front of people and might cry when nobody was around."
The years went by and the looming shadow of her cancer slowly faded away, but not completely.
In light of her health, she left her post in 2019 to become a lecturer at a museum promoting "the Xichou spirit" — the local philosophy and practices in poverty alleviation and rural prosperity.
"We believe in the power of seizing the day and the idea that hope is born through toil and action. We believe that there is no shortcut to any success. This is the Xichou spirit, which has been indispensable over the past 100 years and will be in the hundred years to come," she said.
Xie has developed her own approach to delivering her points of view to museum visitors, from elementary school students to senior officials of the country.
This year Xie was elected as a delegate of the 20th National Congress of the CPC.
As the whole nation has shifted from poverty alleviation to vitalization in the countryside, she underlined the need to further bolster the collective economy in rural areas, and said agricultural production is still essential for the well-being of rural residents.
At the top of her mind is boosting the sales of local agricultural products such as kiwi fruit and chickens.
"The COVID-19 pandemic has impacted sales in cities such as Kunming and exports to countries like Vietnam," she said.